Since the Russian invasion of Ukraine in February 2022, Pathways Japan, with the cooperation of the government, educational institutions, businesses, citizens, and many others, has welcomed 108 Ukrainian refugees into Japanese society through its universities and Japanese language schools partners. On March 18, 2023, the end of the academic year, a reunion was held at Temple University Japan Campus to give the students an opportunity to reflect on their experiences in Japan and to consider their future. A total of 92 students from Japanese language schools and universities around Japan gathered at the reunion.Among the participating students, many were smiling and hugging each other as they reunited with their friends after a long time since they were separated in Ukraine, and the event provided an opportunity to deepen the bonds among the students.
In the morning, participants shared their experiences in a World Café-style workshop, and after listening to each other's experiences, they discussed their future careers and what they would do to achieve them. They also shared their difficulties after coming to Japan and their concerns about the ongoing war in their home countries. Toward the end of the workshop, many participants encouraged each other to overcome the difficulties together and to create a future in Japan.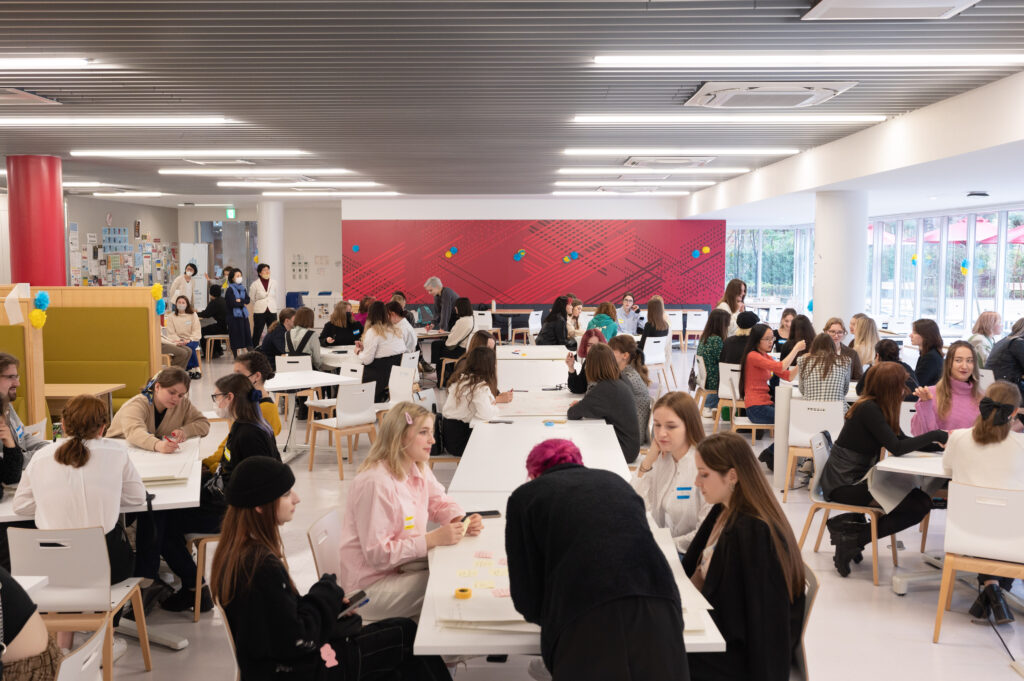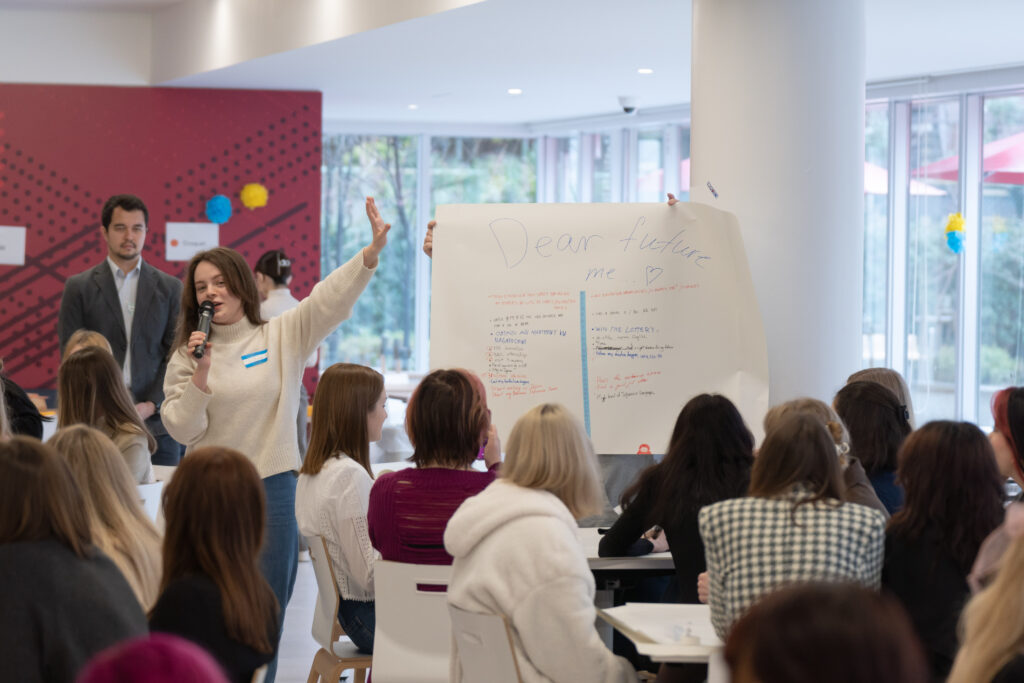 (Workshop scene, photo by Daiki Murakoshi, ICU student)
In the afternoon, presentations from Japanese companies and a session on mental health were held, dividing into two teams for each program, Japanese Language School Pathways and University Pathways. In the corporate presentations, Shiseido Company, Limited and Airbnb Japan, which have been supporting in welcoming Ukraine students, introduced about recruitment and work style in the company and career development. In addition, a Ukrainian student working for Monoxer, Inc. explained about a Japanese language learning application that he was involved in developing himself. After the session, many questions were asked to the speakers about applying to Japanese companies and participating in internships.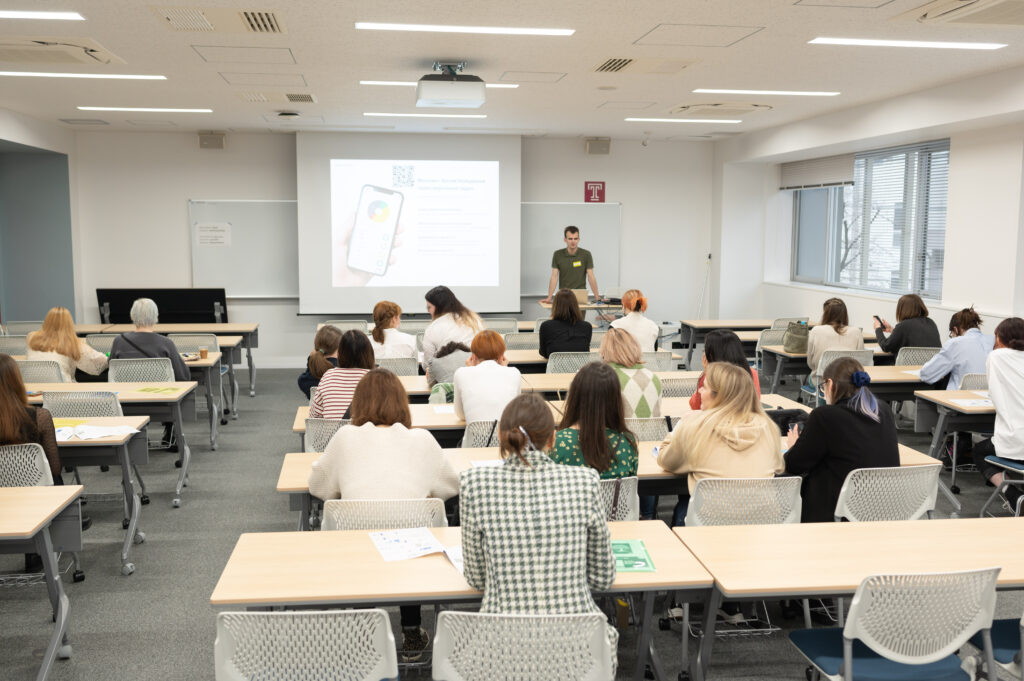 (Presentation by Daiki Murakoshi, ICU student)
In the session on mental health, three staff members from NPO TELL, including a Ukrainian, conducted a workshop with activities as a follow-up to the orientation on stress management conducted immediately after their arrival in Japan. The workshop provided an opportunity to reflect on how they were able to cope with stress in their lives in Japan and to learn through experience how they should deal with mental health issues in the future.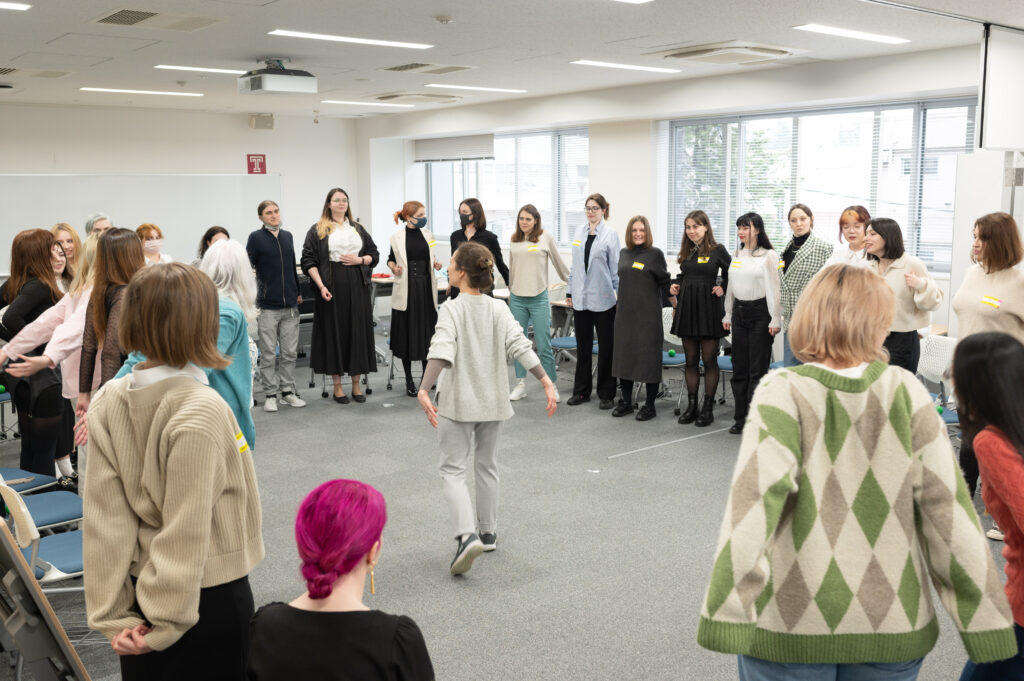 (Workshop scene, photo by Daiki Murakoshi, ICU student)
In the evening, a reception was held with the participation of about 30 people from host universities, Japanese language schools, and support groups. Guests who attended the party commented that they could see the lively expressions on the students' faces and that it was a good opportunity to exchange information with people from other schools. At the end of the event, students danced happily to Ukrainian music, and it was a time to enjoy the company of friends in the midst of various difficulties.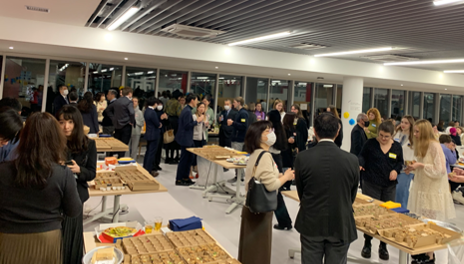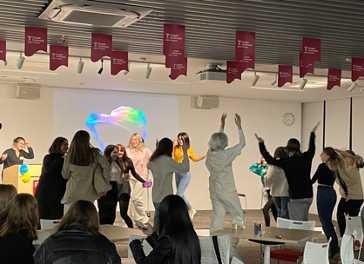 (Reception)
On the day before the reunion, an orientation was held for 15 new students who were recruited in the fall and will be enrolled in the University Pathways program from April. With the addition of these students, the total number of Ukrainian students and their families studying in the Pathways Japan program is now 108 (including 2 family members). Volunteer students were also involved in the event as support staff, facilitating workshops and setting up a "help corner" during the event where participants could write down their concerns and have them answered.
Unfortunately, it will take much more time before peace is achieved in Ukraine and these young people can return to their homeland with peace of mind.But the students studying in Japan will bring much to Japanese society in the future and will be a link between Ukraine and Japanese society. We will continue to work in cooperation with host educational institutions, cooperating companies, and supporters to help the students pave the way to their future through their life in Japan.
*The event was also featured in the media. Please see below. (All articles are in Japanese)
2023-03-19 Asahi Newspapaers
100 Ukrainian evacuee students share challenges ahead of starting to work and going to higher education
2023-03-23 Yomiuri Newspapers
Evacuees from Ukraine: Students hold exchange meeting
2023-03-25 Mainichi Newspapers
Ukrainian young people working and studying hard, Living in Japan with war in mind
2023-05-09 Asahi Newspapers
Universities, Device new ways to support Ukraine:Accepting students for longer periods of time, donations and CF