The percentage of people with refugee experience who go on to higher education is 6% worldwide, which is significantly lower than that of ordinary young people. The Toshizo Watanabe International Scholarship was established based on the strong will of the donor, Mr. Toshizo Watanabe, who hopes that young people with refugee experience will have the opportunity to pursue higher education and play an active role in Japanese society, thereby becoming a driving force to transform Japan into a country where diverse human resources can flourish. The ceremony was held in Tokyo on April 29, and about 30 people, including the scholarship recipients, their families, supporting organizations, and supporters, gathered to celebrate the scholarship recipients' new beginnings.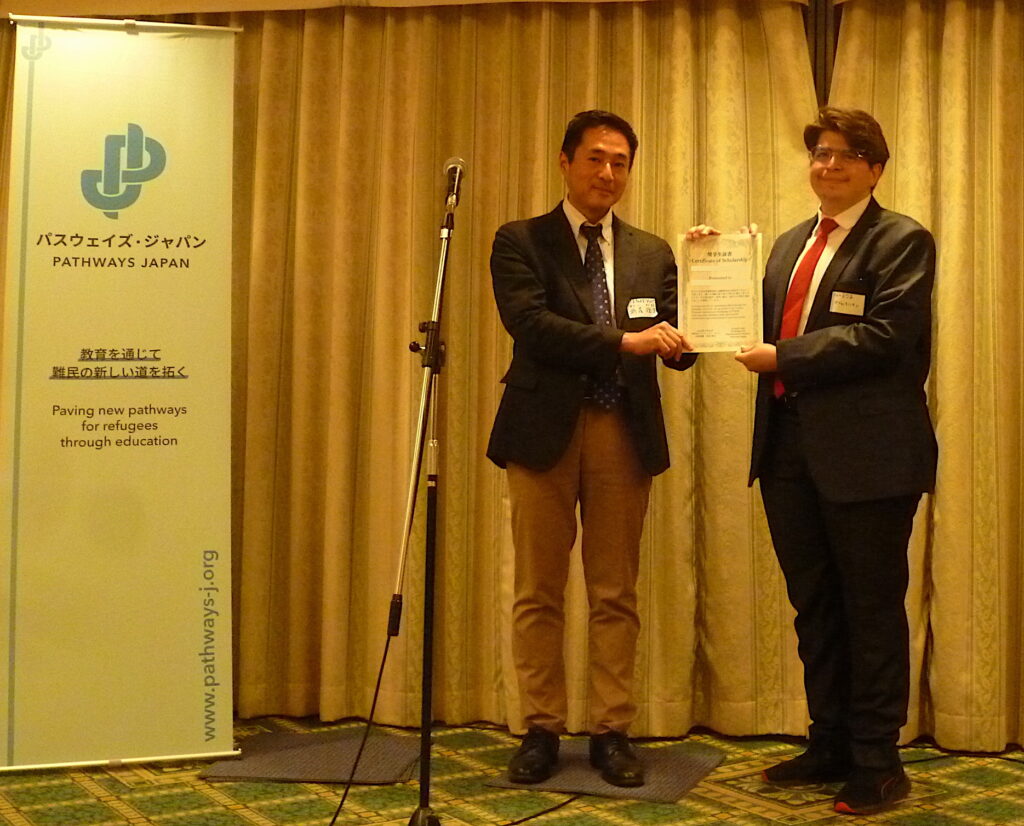 The purpose of this scholarship is to support people placed in refugee situations to go on to university, improve the situation of restricted rights and opportunities to receive higher education, find employment after graduation, and contribute to the realization of the dreams of young people. It is one of the few programs in Japan for refugees who have not yet obtained stable status of residence. In the previous fiscal year, the scholarship program was implemented by Pathways Japan under contract with the Public Resources Foundation. From this year, Pathways Japan is managing the scholarship program. This year, out of 37 applicants, 9 students from Syria, Afghanistan, and Myanmar were selected.
For more information on the Toshizo Watanabe International Scholarship, click here.
On the day of the event, the scholarship recipients gave speeches after receiving the award one by one. Each scholarship recipient shared his or her experience of having to interrupt their education due to conflict and persecution and facing difficulties in starting a new life in the place they fled to, and talked about their aspirations for the future such as "I want to study architecture in Japan and contribute to the reconstruction of my home country", "I want to learn about economics and become a bridge between Japan and my home country in the future", "I want to learn about technology for prosthetic arms and legs to help those who lost their limbs in the civil war". Many of the scholarship recipients spoke strongly about their will not to lose their hopes for learning and to grasp and make the most of this opportunity without losing hope for learning, in the Japanese language they have studied, and many of those in attendance were impressed by their speeches.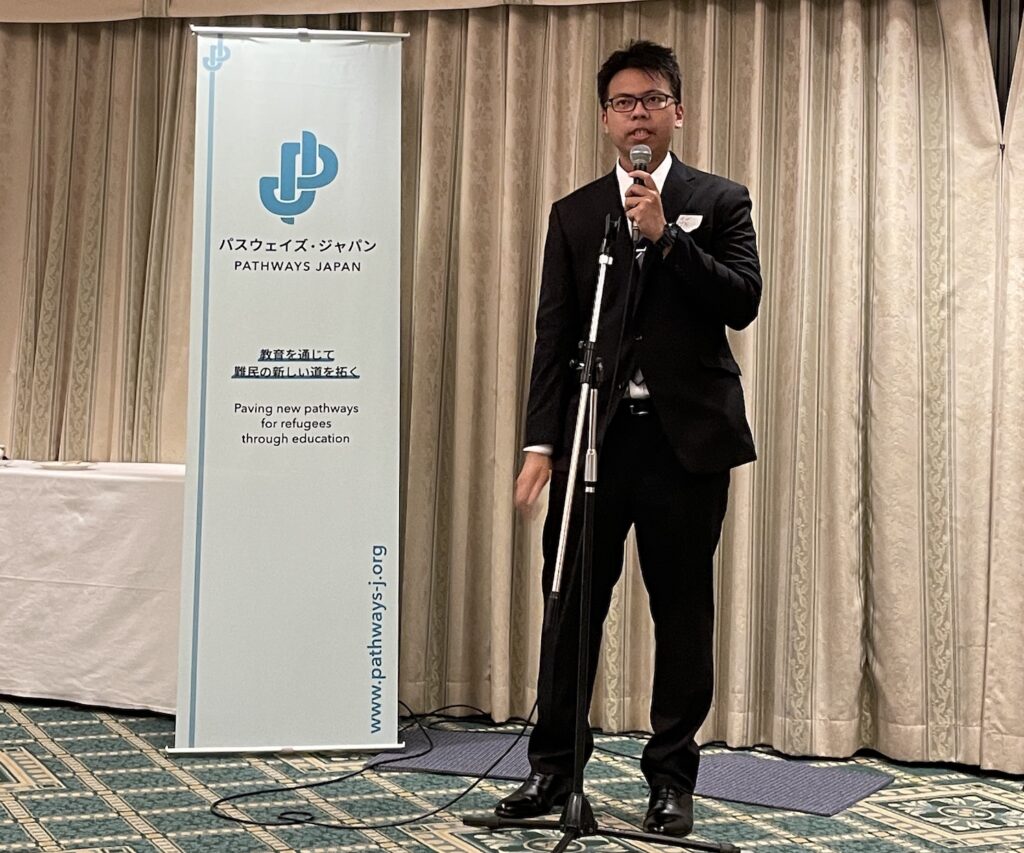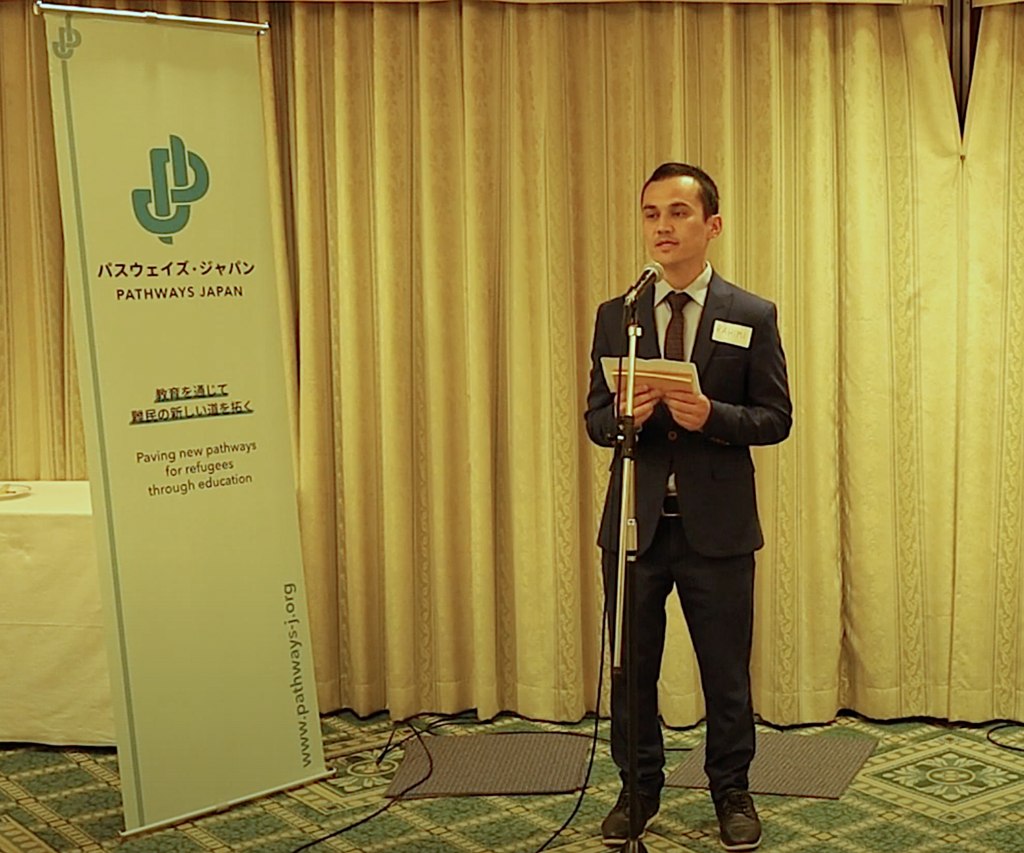 Supporters of this program also sent congratulatory messages such as, "Please believe in your heart and go forward step by step toward your dreams," and "You will be a hope and role model for other refugees, so please work hard toward your future dreams."
Mr. Toshizo Watanabe, the donor of this scholarship, likened the "carp streamer"(koinobori) raised on May 5th festival which shows its most beautiful form in a headwind, saying "I assume you have overcome many hardships and adversities in your life in Japan, and I am sure you will face even stronger 'headwind' in the future. At such times, I hope that you will show your strength like a beautiful 'carp streamer'(koinobori) flying in the air in the midst of the headwind."
Pathways Japan will continue to support scholarship recipients so that they can pursue their own goals and live and work in Japanese society with peace of mind in the future.