We would like to tell you what Pathways Japan (PJ) is aiming to achieve.
First of all, let me start by explaining the idea behind the name of the organisation, Pathways Japan. The word 'Pathway' is generally translated as 'pathway'. The Cambridge English Dictionary describes it as 'a series of actions that can be taken in order to achieve something'.
PJ ascribes two meanings to the word 'pathways'.
― To provide a pathway to the future for young refugees through educational opportunities in Japan.
― To provide a pathway to the future for young refugees through educational opportunities in Japan.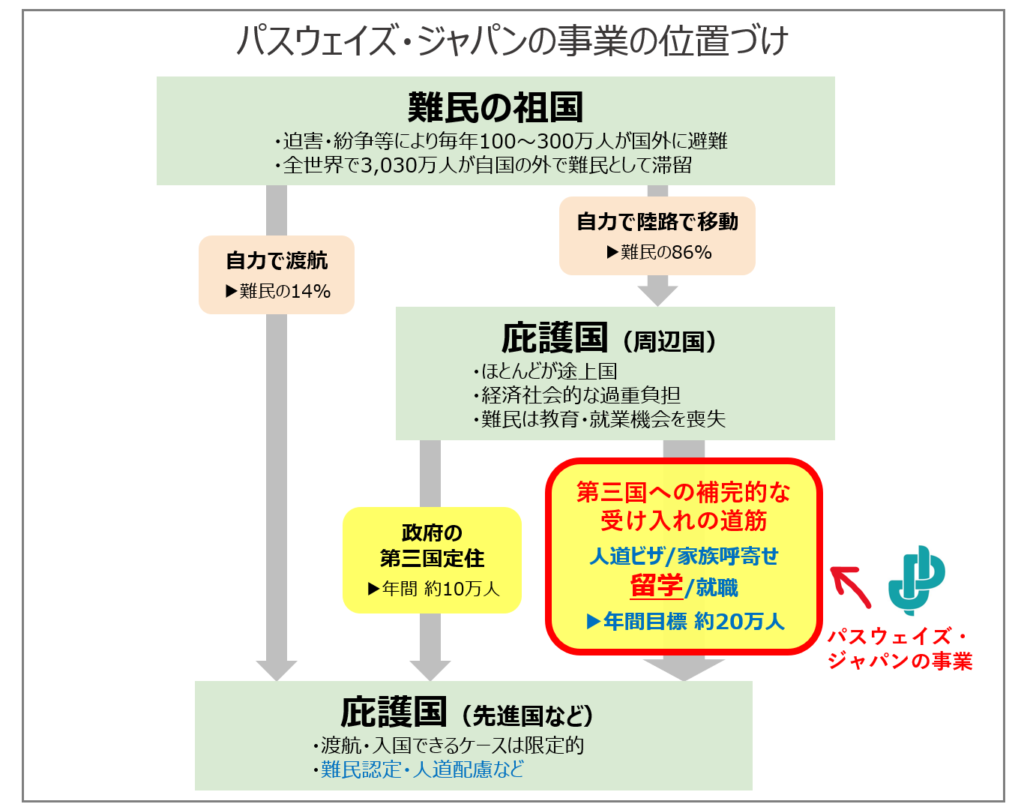 This private-sector-led approach to refugee admission by PJ has a history of being led by civil society organisations in different parts of the world.
In the post-World War II era, the main actors in refugee admission have been neighbouring countries adjacent to the refugee-generating countries and the governments of countries that have signed the Refugee Convention. However, with the end of the Cold War, the number of people becoming refugees due to conflict and human rights violations has continued to increase, and national governments alone have been unable to adequately respond to the situation on a permanent basis. In response to these changes in the refugee-creating environment, the private sector has expanded to take in refugees to complement refugee protection efforts by governments.
In particular, since the Syrian refugee crisis in 2011, private sector acceptance has expanded and Canada has been highlighted as a leading case study. The Global Compact on Refugees, adopted by the UN General Assembly in 2018, also recommends complementary pathways for admission to third countries (Complementary Pathways for Admission to Third Countries), which complement government admission. The Global Pact on Refugees also recommends complementary pathways for admission to third countries, which complement government's efforts.
Between one and three million people are forced to flee their country of origin every year in the world today. And although they have fled the country for the time being, 30.3 million people remain in temporary shelters, seeking refuge where they can live in safety.
The reason why PJ strongly hopes to bring private sector-led refugee admission to Japan is because there are many refugees like these who have been waiting for many years for a place to seek refuge.
So what is it about refugee reception that can be done by the 'private sector' rather than the government?
In government reception, there is a role and benefit in being able to protect those who are more vulnerable. For example, children who have lost parents in conflict, people with disabilities and the elderly. In Japan, as a developed country, there may be medical care and other services that are available only in Japan. While countries around the world are expected to share responsibility and take on the protection of refugees, it is the government's responsibility to actively accept those who need such expensive support.
On the other hand, private sector acceptance has the advantage that the leading private organisation can link various resources in society (e.g. businesses, schools, local citizens, etc.) and work together quickly to facilitate acceptance. It is not easy to secure sufficient funds immediately, but it is possible to gather funds by gathering the strengths of individual citizens who want to support the private sector acceptance of refugees, as PJ is now doing.
PJ is working with educational institutions to accept refugees as international students, but another avenue is to work with businesses to accept them through employment. The other day, the news reported a case in which a citizen acted as a guarantor to bring a refugee he knew to Japan, and the company accepted them into their company in the form of employment. It is encouraging to see how many people are doing what they can to help refugees.
PJ's projects cannot be realised by PJ alone.
Together with many of you, PJ is committed to paving new paths for refugees through education. We ask for your continued support.